Post Office interest rates changed! Latest Time Deposit, PPF, Sukanya Samriddhi, NSC, KVP rates table here
Post Office interest rates January-March 2019: The government of India has revised the interest rates offered on some of the Post Office savings account for January to March quarter this financial year. In an official notification dated 31 December 2018, the Department of Economic Affairs said, "On the basis of decision of the Government, interest rates for small savings schemes are to be notified on quarterly basis." The Post Office now offers 7.0% interest on 1 year Time Deposit. This is compounded quarterly. The interest rate on this account offered earlier was 6.9%. The interest rate on 3 year Time Deposit scheme has been reduced to 7% from  7.2 per cent earlier.
The interest rates on all other accounts offered by the Post Office remains the same as the last quarter.
The Post Office offers 12 types of savings accounts. these are:  Savings Deposit, 1 year Time Deposit, 2 year Time Deposit, 3 Year Time Deposit, 5 year Time Deposit, 5 year recurring Deposit, 5 year Senior Citizen Savings Scheme, 5 Year Monthly Income Account, 5 Year National Savings Certificate, Public Provident Fund Scheme, Kisan Vikas Patra, Sukanya Samriddhi Account Scheme.
The latest interest rates have been approved by Union Finance Minister Arun Jaitley.
Post Office Small Savings Account Interest Rates Table: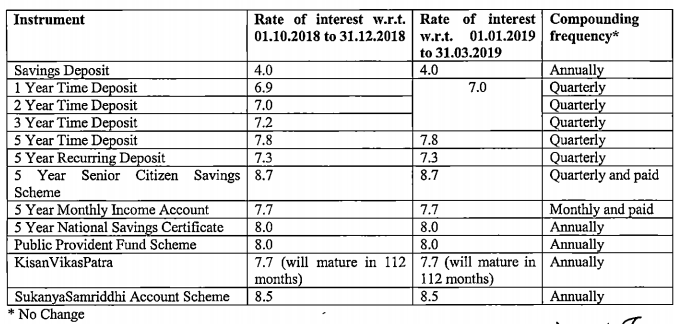 *Source: Department of Economic Affairs, Ministry of Finance
The Post Office Time Deposit accounts may be opened by an individual cash /Cheque. In case of Cheque, the date of realization of Cheque in Government account shall be the date of opening of the account. According to the official India Post website, nomination facility is available at the time of opening and also after the opening of the account. The accounts can be transferred from one post office to another.
An individual can open any number of Time Deposit accounts in any post office.
Source:- zeebiz
Share: