Are you buying gold? Shop on Amazon, get 100% off on making charges!
Demand for gold in India is always high and this is why the country stands as the second biggest buyer of the yellow metal globally. Now the E-commerce sites are also aware of the consumers choice and interest. Keeping that in view, one of the largest-online retailers, Amazon, has come up with the best deals off gold for their customers, offering 100% off on making charges.
The deal is being provided between 30th November to 3rd December.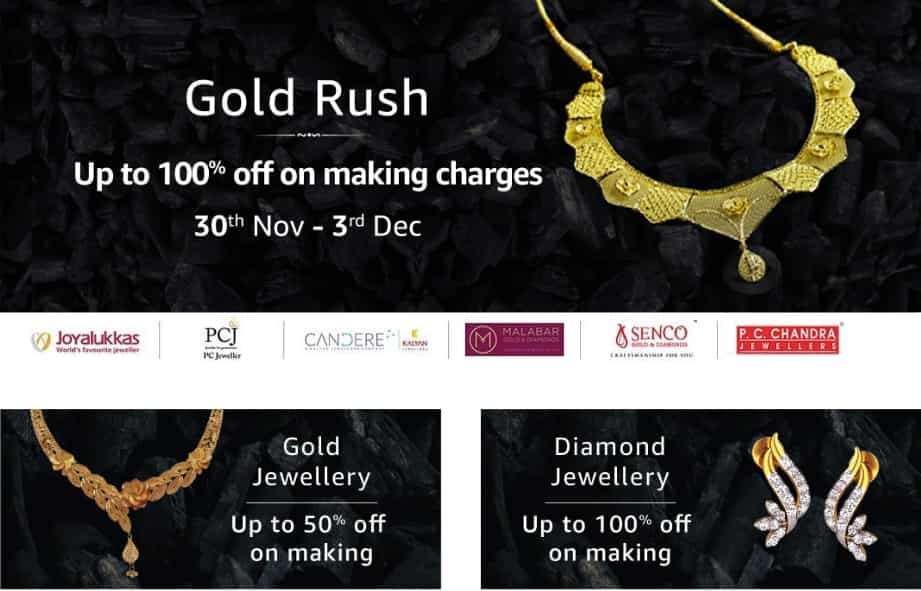 Amazon is offering the hallmarked Jewellery of Gold with 50% off on making charges and Diamond Jewellery up to 100% off on making charges.
Can you Imagine Golden Neckwear, Bangles & Bracelets, Golden earrings and Rings are being offered under Rs 25,000. The best part is that the offer is given with the top branded merchants like Kalyan jewellers, Malabar Gold, P.N.Gadgil Jewellers and PC. Jewellers.
Whereas Diamond Jewellery consists of Pendents, earrings, Rings and Nose pins are offered under Rs 10,000. The brands which are offering the discounts on diamonds are P.N.Gadgil Jewellers and PC. Jewellers.
The platform is offering up to 20% discount on Gold coins too. Yes, if you do not want to buy ready made jewellery, then this is the best option as you can save hefty amount on purchase through amazon. Top brands like Malabar Gold, P.N.Gadgil Jewellers and PC. Jewellers are providing 24 carat of gold with such a huge discounts.
Whereas Silver earrings and Rings are offered up to 50% off and silver coins up to 20% off.
Let us see today's Gold price in India:
For 10 grams of 22-carat gold is priced at Rs 2970 the rate of gold is low from the previous day which was Rs 29800 and for 24-carat gold today's price is Rs 31600 for 10 grams which are again lower from previous day price – Rs 31650.
Let us see the price of gold in your city: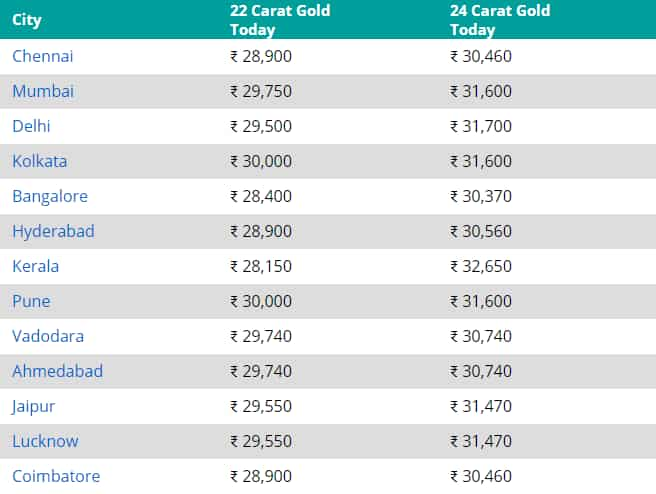 Let us see today's Silver price in India:  
In Mumbai, Delhi, Chennai, Kolkata, Bangalore, Hyderabad, Kerala, Pune, Lucknow and Jaipur the price of 1 Kg silver is priced at Rs 41,200.
However Silver price for 1 gram is Rs 41.20 and for 8 gram is Rs 329,60 for 10 gram is Rs 412, for 100 gram is Rs 4120 and for 1 Kg is Rs 41,200.
Source:- zeebiz
Share: